How To Repair an Ethernet Cable
I've had a broken Category 5e Ethernet cable lying around for a while that I finally decided to fix. Actually, the cable was fine, but the spring on one of the modular connectors was broken, so it wouldn't stay in a network jack. Since I've never done this before, I figured it'd be fun to document this little project. Stuff I used:
Package of RJ-45 CAT 5e Modular Connectors
RJ-45 Crimping Tool
Small Wire Clipper (optional)
Please read these directions thoroughly before cutting your cable.
(Trivial Side Note: Ethernet actually uses 8P8C connectors, but they are almost always referred to as RJ-45, technically a slightly different design. Details, details…)

Step 1: There are two wiring schemes for Ethernet cables, T568A and T568B. Both ends of the cable need to follow the same scheme. Since I'm only replacing one connector, I need to check which scheme the manufacturer used on this cable. This Wikipedia article shows the diagrams for both CAT 5e wiring schemes. Despite my color-challenged vision, I can tell by looking through the clear plastic that this cable uses the T568B layout. (Of course, both ends of the cable need to use the same layout.)

Step 2: I lop off the defective connector using my RJ-45 Crimping Tool. This is pretty easy. There's a nasty sharp wire cutter built into the tool.

Step 3: The crimping tool actually has a double blade which also scores the wire housing a half-inch from the cut end. This way, you can easily peel off the leader so that the exposed wires are the perfect length to insert into the new connector. However, I found that I needed some slack. After arranging the wires in the proper order, some were too short due to having been routed in a roundabout way. Perhaps, a seasoned wirer has a magic touch I don't, but I opted to further expose an inch and a half of wire so that I could make my connection nice and pretty. For this, I used a small wire cutter to trim away more housing. (Nibble so you don't stab your thumb like I almost did!)

Step 4: Now that I have plenty of wire exposed, I arrange them in the proper order. In this case, I'm using the T568B scheme. According to Wikipedia, this is from Pin 1 to Pin 8: White/Orange, Orange, White/Green, Blue, White/Blue, Green, White/Brown, and Brown.
EDIT: Keep in mind that there are two standard wirings for straight through cables, T568A and T568B — and crossover cables have different wirings at each end. Identify your cable wiring scheme first by looking at the wires through the transparent plugs at each end! (Your cable might not even follow one of these standards…) If in doubt, duplicate your existing wiring scheme.
Step 5: I need these wires cut neatly so that they extend only a half inch from the cable housing. This way when I insert the wires into the modular connector, the cable housing will run flush into the end of the connector while the wires extend fully to the electrical contacts. I use a wire cutter to trim the excess wire so that only a half inch is exposed from the sheath.

Step 6: I orient the wires to the pin positions 1 through 8 of the new modular connector. It's easy to do this upside down by accident, so I checked the pin positions on Wikipedia again just to be sure. Looking toward the head of the connector with the spring up, pin 1 is on the left side. I slide the wires in. Once they hit their respective grooves, they retain proper alignment all the way to the electrical contacts. Make sure to get them all the way in!

Step 7: Now I place the modular connector into the 8P jack of the crimping tool and give it a good squeeze. This locks down metal blades inside the connector onto each individual wire, thus establishing a circuit to each electrical contact on the plug. Crimping is my favorite step!
That's all there is to it. Now I've got a nice, clean, functional connector. It's missing the snag-free collar of the original, but a lot of good that did me in the first place, huh? Only thing left to do is to make sure it works. Well, in order to do that, I plug the cable into my laptop and see if I can connect to the network. Voila!
Disclaimer: I have no idea if it is possible to fry your hardware if you mess up your pin outs, so proceed at your own risk! In fact, I'm not stopping you from purchasing an inexpensive cable tester to test your cables properly…so be smarter than me and do this instead of plugging it into your laptop.
That said, mine worked: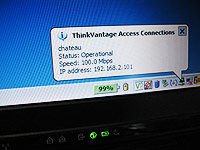 Related Posts